---
Basic Analysis
The year 2018 seems to be a pretty bad year for the crypto market, it is almost felt by all crypto industry leaders. How not, predictions made by some trusted sources regarding crypto prices deviate far from the specified value. Nearly half of 2017, crypto gives a pretty good impression of its price on the market. Right in December, 2017 Bitcoin almost reached far towards the value of $ 20,000.
That certainly looks like a pretty extraordinary price to invite interest for investors to take advantage of the benefits. Even in some sources also mentioned the price of Bitcoin will be predicted to reach more than $ 38,000 towards the end of 2018. But the fact is that the price is far lower than the estimates of the crypto industry.
Of course I made a big loss for investors. Instead of keeping digital assets in the market, some investors choose to keep them (HOLD) in their wallets. Meanwhile some people may choose to leave the market and revoke all their assets. We cannot deny that this has reduced confidence in cryptocurrency. Prices that continue to decline make most business people experience frustration. In addition, crypto market share also has a fairly negative impact on digital currency trading.
The higher volatility in the market caused a number of people to lose their money. So that most business people choose to stay or leave it. Moving on from that problem, Trade.io offers a program that is quite profitable for digital currency industry players.
Just call the Trade.io Liquidity Pool program a solution for you to get out of the Down crypto problem that is happening right now.
How come? I will start to analyze something very profitable from the Crypto Exchange Blockchain, namely Trade.io. First I want to observe what happened to the crypto market in 2018. This might be a basic consideration for me to recommend the adventure of your digital assets on Trade.io. The program offered is quite beneficial for you. I am very proud to explain this to you.
---
How to Access the Program?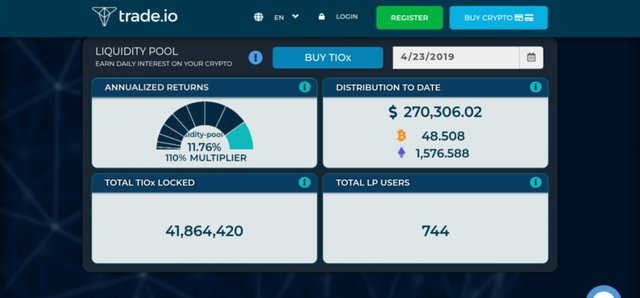 This is the first revolution that occurred in crypto trading that offers transactions without fees. Trade.io is an exchange platform that offers a fairly profitable investment service, one of which is Liquidity Pool. In addition they also offer ICO.
To create an account, you can submit individually or institutionally. Based on my experience, creating an account requires a government ID, proof of residence, cooprorate identity if you register on behalf of the institution, selfie with ID and some other special conditions.
But, unfortunately not all residents on this earth can create an account on Trade.io. They are very consistent with the Office of Foreign Assests Control (OFAC) regulations. That means there are some countries that cannot access accounts such as Croatia, Switzerland, the US.
To register for the Trade.io Liqudity Pool program please press this link.
Enter your email address.
Enter all types of information requested through the confirmation link sent to your email.
Exchange / buy TIOx with the digital currency that you have. – Invest TIOx into the program with a minimum number of around 2,500 TIOx.
---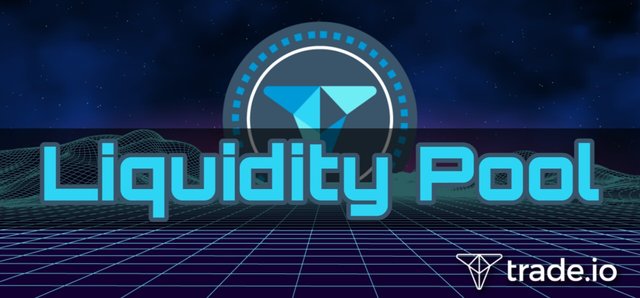 Trade.io Liquidity Pool offers an investment adventure that is quite profitable for you. Take advantage of this program to liquidate your digital assets by gaining profits every day. I simply want to say that at a glance maybe this looks like stock investment in the international market.
However, in fact this is more different and very different from what you think. You only need to risk or mememjamkan your digital assets to be transacted at an advanced investment. Fortunately you will get interest calculated based on the number of trade tokens (TIOx) that you are betting on the Platform.
It is enough to risk some of your digital assets to be exchanged for TIOx. To be able to enter this program, you must have a minimum of 2,500 TIOx to be loaned into the program and there is no maximum limit. This program really provides significant benefits for you. Only by lending some TIOx to the program, you will get interest every day.
If on that day the program experiences profits, then the interest will enter your wallet. The amount of interest returned to you is not a fixed amount. However, this is taken into consideration based on the number of tokens you are betting and the profits earned by them. Each number of tokens that have been loaned into the program can also be withdrawn whenever you want.
When about 700 people are in the program and have invested some of their crypto to be exchanged into TIOx. The interest return system is based on their policy with a systematic formula (Returning the Utilized TIOx x 50%) x (Loaned TIOx / Total TIOx) x (% Level Multiplier in the Graph).
---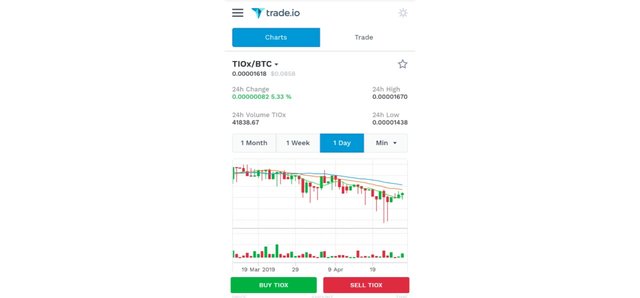 Sell STEEM & Buy TIOx
To get a Trade.io Token (TIOx) you can sell your STEEM to be converted to ETH or BTC. Price of 2,500 TIOx is equivalent to $ 211,7875 USD. If converted into STEEM, you will risk less than 613 STEEM. This data is inputted last at 23.00 UTC + 7 which is obtained from the official page @coingecko/https://www.coingecko.com.
613 STEEM must be converted to become BTC or ETH. You can buy TIOx using BTC / ETHon the Trade.io market.
Immediately invest 613 STEEM to be included in this spectacular program.
---
Final Choice
Trade.io Liquidity Pool is the best place to duplicate your digital assets by getting a favorable interest rate. This is an opportunity for you to invest / lend your digital assets without any time limit. You can choose to risk forever in the program or choose to withdraw at the desired time. Just imagine, fifty percent of the funds generated from daily transactions will be returned in the form of interest to your wallet.
---
Resource & More Information
Trade-io Liquidity Pool: Earn Interest On Your Crypto Daily
Trade.io website
Liquidity Pool on Trade.io
More on Trade.io Liquidity Pool
---
Disclaimer
This is not financial advice, or a guarantee or promise regarding any results that can be obtained from using the content above. The information provided here is only for information and entertainment purposes. It should not be considered as financial and / or investment advice. No person may make any financial decisions without first consulting their financial advisors and / or conducting their own research and due diligence.