Every grip of time has pounced on the times and moved all the activity into a corner. In the middle of the trip often the pounding of the feet in direct contact with the solid ground. Sweat that drenched the forehead and part of the face is a proof of the struggle of life. The period continues to swallow the age until it takes it to be more soluble in the darkness of the night and bright morning. Slowly beautiful faces begin to reveal lines that form wrinkles. Bright colors become dull at the time that can not be stopped.
Water that looks kind even though there are dirty substances forming mud that is stored below the surface. A echoing sound filled the corner of the room that looked so mysterious and frightening. Eyes that keep staring sometimes make him tired and need a rest. Covering it for a while might make him look fresher. Eyeballs that slowly become myopic just keep staring at the sheets of paper called books. When and where it will be seen as something very enjoyable.
Like feeling a delicious delicacy, the neatly stacked papers transform into strawberries or maybe pizza. At this vulnerable age, you may have to repeat it several times in order to understand the meaning of each written word. Memory becomes a little weak and can occasionally be forgotten. However, efforts must still be made to be able to open the horizon. All energy has been devoted to capturing something more valuable. Because we realize that studying does not know the age limit.
Moral message :
"As time goes on, science will continue to develop dynamically. There will be no stop to learn, because stopping learning will only make us look like turbid, stagnant, and unable to flow. Make reading as a capital to add insight and provide good lessons for a more perfect life."
---
---
[INDONESIA]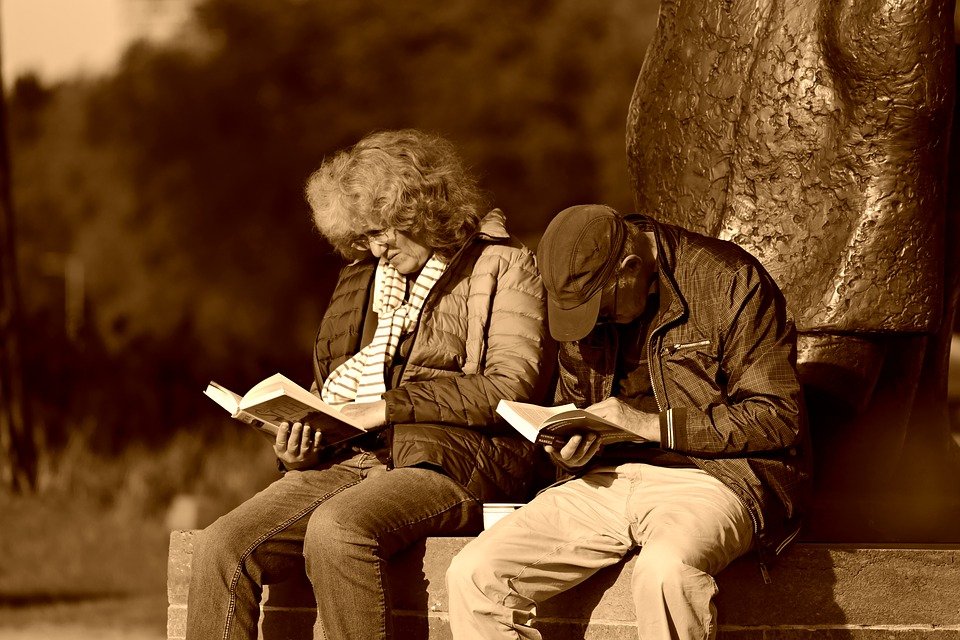 image source
Setiap cengkraman waktu telah menerkam masa dan menggerakkan seluruh aktivitas kesuatau sudut. Di tengah perjalanan sering kali hentakan kaki yang bersentuhan langsung dengan tanah yang padat. Cucuran keringat yang membasahi kening dan sebagian muka adalah sebuah bukti dari perjuangan kehidupan. Masa terus menelan usia hingga membawanya menjadi lebih larut dalam gelapnya malam dan terangnya pagi. Perlahan-lahan wajah yang indah mulai menampakkan garis yang membentuk kerutan. Warna yang cerah menjadi kusam di telan waktu yang tak dapat dihentikan.
Air yang terlihat jenis sekalipun terdapat zat-zat kotor membentuk lumpur yang tersimpan di bawah permukaan. Suara menggema memenuhi sudut ruang yang terlihat begitu misterius dan menakutkan. Mata yang terus menatap terkadang menjadikan dia lelah dan butuh istirahat. Memenjamkannya untuk sementara waktu mungkin bisa membuat dia untuk terlihat lebih segar. Bola mata yang perlahan menjadi rabun terus saja menatap lembaran-lembaran kertas yang disebut dengan buku. Kapan dan dimana saja ini akan terlihat sebagai sesuatu yang sangat nikmat.
Seperti merasakan suatu kelezatan yang nikmat, kertas-kertas yang tertumpuk rapi itu menjelma menjadi strawberi atau mungkin pizza. Di usia yang sudah rentan ini mungkin saja harus mengulangnya beberapa kali agar dapat memahami maksud dari setiap kata yang tertulis. Daya ingat menjadi sedikit lemah dan terkadang sesekali bisa saja menjadi lupa. Namun, usaha harus tetap dilakukan untuk dapat membuka cakrawala. Segenap tenaga telah dicurahkan untuk dapat menangkap sesuatu yang lebih berharga. Karena kita sadar bahwa menuntut ilmu tidak mengenal batas usia.
Pesan Moral :
"Sejalan perjalanan waktu ilmu pengetahuan akan terus berkembang secara dinamis. Tidak akan kata henti untuk belajar, karena berhenti belajar hanya akan membuat kita terlihat seperti air yang keruh, tergenang, dan tidak dapat mengalir. Jadikan membaca sebagai modal untuk menambah wawasan dan memberi pelajaran kebaikan untuk kehidupan yang lebih sempurna."