(screenshot Pramuka Pos)
The world of blogs really inspired me to pursue the world of writing. Being a freelance writer has made me have a perspective in the world of imagination that is very high. This paper is produced based on the results of hard work, effort, effort and time. We who have pursued this world can be called as artists. Maybe it's just the level of experience that distinguishes a work. There are beginner levels and there are also senior levels who are already proficient in certain fields.
Dunia blog benar-benar telah menginspirasi saya untuk menekuni dunia menulis. Menjadi sebagai penulis lepas telah membuat saya berspektakulasi dalam dunia imajinasi yang sangat tinggi. Karya tulis ini dihasilkan berdasarkan hasil kerja keras, tenaga, usaha biaya dan waktu. Kita yang telah menekuni dunia ini bisa disebut sebagai seorang seniman. Mungkin hanya saja tingkatan pengalaman yang membedakan suatu hasil karya. Ada tingkatan pemula dan ada pula tingkat senior yang sudah mahir di dalam bidang tertentu.
All of us have our own personal qualities with passion that cannot be compared to others. It will be very pleasant if our work has value for others. Often we hope that each of our works can benefit people and can be appreciated. Appreciating the work of people is a form of the appreciation we give to the art work.
Semua kita memiliki kualitas pribadi masing-masing dengan passion yang tidak bisa disamakan dengan orang lain. Akan sangat menyenangkan rasanya bila karya kita telah memiliki nilai bagi orang lain. Seringkali kita berharap bahwa setiap karya kita dapat memberikan manfaat bagi orang dan bisa dihargai. Menghargai karya orang adalah sebagai suatu bentuk atas penghargaan yang kita berikan kepada pekarya seni.
Our quality depends on the amount of knowledge we have. When a work has been appreciated we may have had a quality of self that began to improve, so that it gained attention from others. Each award is also highly dependent on the environment of the work we are currently living in. For example, our writing is valued through voting on the Steemit platform. In different environments, people might know us as doodle work.
Kualitas diri kita sangat tergantung dari banyaknya pengetahuan yang kita miliki. Ketika sebuah karya telah dihargai mungkin saja kita telah memiliki kualitas diri yang mulai meningkat baik, sehingga mendapatkan perhatian dari orang lain. Setiap penghargaan pula juga sangat tergantung dari segi lingkungan karya yang sedang kita jalani. Contohnya, karya tulis kita dihargai melalui voting di platform Steemit. Dalam lingkungan yang berbeda mungkin saja orang mengenal kita sebagai pekarya doodle.
Because we will be known in a field in the environment that we are engaged in. You may be known as a successful Steemians on this Platform. However, it is also unlikely that you will get that success easily when sending writing to different services, say online news media.
Karena kita akan dikenal di dalam suatu bidang dilingkungan yang sedang kita tekuni. Anda boleh saja dikenal sebagai seorang Steemians yang sukses di Platform ini. Namun, tidak kemungkinan juga Anda akan mendapatkan dengan mudah kesuksesan itu ketika mengirimkan tulisan kepada layanan yang berbeda, katakanlah media berita online.
Or maybe in a different situation, the work might not get the attention of others. That is because there is no high quality of our work or for other reasons. Many positions will be placed when we pursue a world like this. When our work has not received attention, neither should we stop to do it.
Ataupun mungkin dalam keaadan yang berbeda bisa saja karya tidak begitu mendapatkan perhatian dari orang lain. Ntah itu karena tidak adanya kualitas yang tinggi dari karya kita ataupun karena alasan lain. Banyak posisi yang akan kita tempatkan saat menekuni dunia yang serupa seperti ini. Ketika karya kita belum mendapatkan perhatian bukan pula kita harus berhenti untuk melakukannya.
However, in such a way we all have a role to be able to respect each other. Respectful work is a form that can ease the burden feared by Pekarya. Then respect the work of anyone so that he can continue to motivate himself in the work. What's more if we have the ability to help others in developing their work.
Namun, sedemikian rupa kita semua memiliki peran untuk dapat saling menghargai. Karya menghargai adalah salah bentuk untuk dapat meringankan beban yang ditakuti oleh pekarya. Maka hargailah karya siapapun supaya dia dapat terus memotivasikan dirinya dalam berkarya. Terlebih lagi jika kita memiliki kemampuan untuk membantu orang lain dalam mengembangkan karyanya.
As I am experiencing right now. I feel happy when my writing has been published by a media. This is my first shipment on the blog and got a pretty proud response.
Seperti yang sedang saya alami saat ini. Saya merasa senang ketika karya tulis saya telah dipublikasikan oleh suatu media. Ini adalah kiriman pertama saya di blog tersebut dan mendapatkan respon yang cukup membanggakan.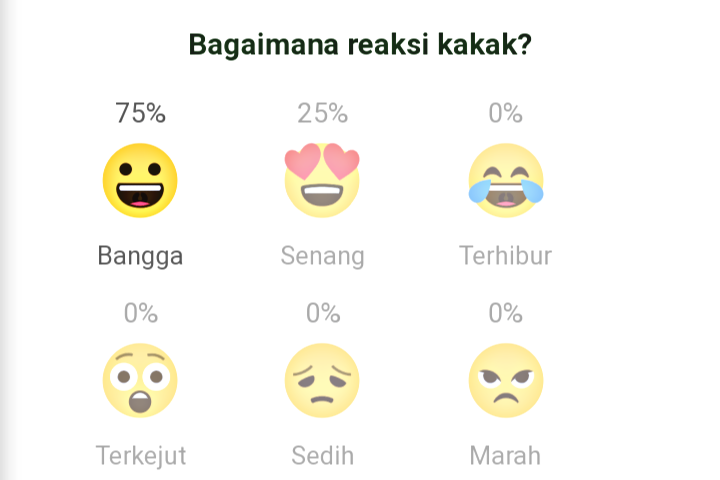 The writing that I sent in the Pramuka online news media received a response of 75% proud and 25% happy. This is the result of a screenshot within one week ago. To see it you can go directly to the following page! Post Scouts
Tulisan yang saya kirimkan di media berita online Pramuka mendapatkan respon 75% bangga dan 25% senang. Ini adalah hasil screenshot dalam waktu satu minggu yang lalu. Untuk melihatnya Anda dapat langsung menuju kehalaman berikut ini!Pramuka Pos