We used to scream, shouting loudly for the crackdown. We have once stood in a row before the police. We are people who have strong souls and are not afraid. We are people who never feel ashamed to shout the truth.
We are a group of people who together pick up "justice" in the parliament. We continue to walk towards the parliament even though the blazing sun is so hot. Simultaneously we make a sound, at the same time we swing the steps to pick up "welfare".
Sometimes we are often labeled as drivers of anarchism. Because maybe we have broken a number of glass in the State Office. Or maybe we have jumped over the fence of the official office. Or maybe because we have knocked down the gate of the state service office.
Or maybe because we have acted by making traffic jams, burning tires, and complaining with the authorities. Believe me, we are not criminals nor criminals. We are on our way in the movement to pick up "prosperity".


Illustration : image source
Even among us there are also those who enter prison (prison) because the peaceful movement picks up "human rights". We are a group of lions that will tear out savagery, injustice, untruth, and mental slaughter of democracy. Every step we move is a step towards new hope.
Although sometimes our voices and shouts are never ignored by the parliament. Maybe because they are deaf or the eyes of those who have been blinded by greed. Public servants who live from the rights of the people but never serve the people. They are swear and traitors to the nation.
We have felt tear gas throws and been showered with water from the tank of a fire engine. However, our act will never disappear and stop. Because our cry is representing the people's cry. We are intellectual people who are born from the people and are fighting for the rights of the people.
There are things that need to be believed that our actions are based on analysis and data, both visible and invisible. The revolutionaries will continue to walk on the path of truth. Because we have struggled to win independence with great difficulty. Until now it seems that this nation has not enjoyed essential independence.
We will never be silent seeing this oppression. The struggle for justice, prosperity, prosperity and human rights will continue. We are not humans who are born with blind eyes and a frozen heart. We still have a long journey. Whereas we are walking to pick up all that.
---
---
[INDONESIA]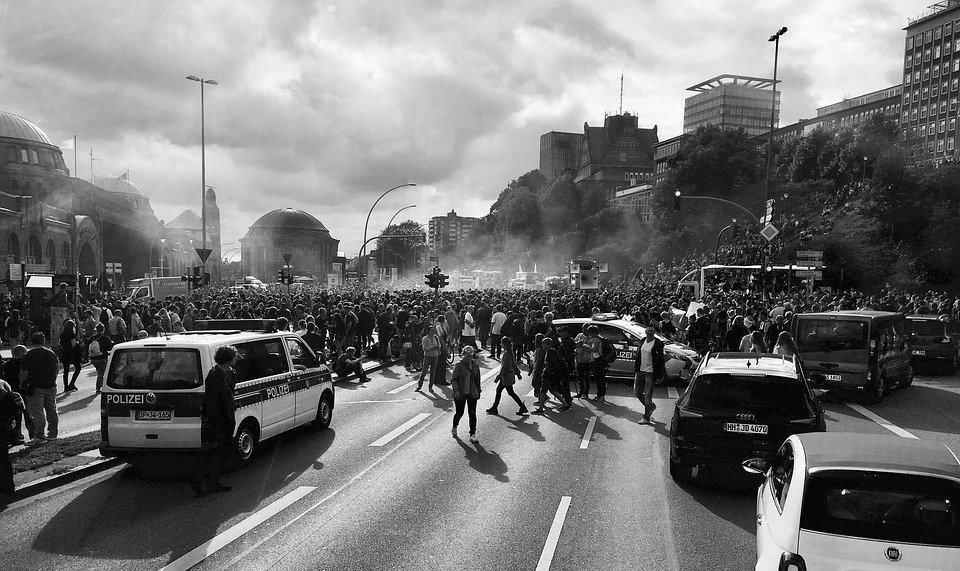 Illustration : image source
Dulu kita pernah berteriak, berteriak dengan lantang menyuarakan pembebesan. Kita pernah satu baris berdiri tegak di hadapan aparat kepolisian. Kita adalah orang-orang yang memiliki jiwa kuat dan tak pantang gentar. Kita adalah orang-orang yang tak pernah merasa malu untuk meneriakkan kebenaran.
Kita adalah sekumpulan orang-orang yang bersama-sama menjemput "keadilan" di parlemen. Kita terus berjalan menuju parlemen meskipun terik matahari dikala itu begitu panas. Serentak kita bersuara, serentak pula kita mengayunkan langkah untuk menjemput "kesejahteraan".
Terkadang kita sering kali di labeli sebagai penggerak anrkisme. Karena mungkin kita pernah memecahkan beberapa kaca di kantor dinas Negara. Ataupun mungkin kita pernah melompati pagar kantor dinas. Ataupun mungkin karena kita pernah merobohkan pintu pagar kantor dinas negara.
Aataukah mungkin karena kita pernah berulah dengan membuat kemacetan, membakar ban, dan mengadu mulut dengan pihak aparat. Percayalah, kita bukanlah penjahat bukan pula pelaku kriminalisasi. Kita berada pada jalan diri kita dalam pergerakan menjemput "kemakmuran".


Illustration : image source
Bahkan di antara kita ada pula yang masuk bui (penjara) karena pergerakan damai menjemput "hak asasi manusia". Kita adalah sekumpulan singa yang akan merobekkan kebiadaban, ketidak adilan, ketidak benaran, dan pembantaian mental demokrasi. Setiap langkah yang kita gerakkan adalah langkah menuju harapan baru.
Walau terkadang suara dan teriakan kita tidak pernah dihiraukan oleh parlemen. Mungkin karena mereka tuli atau mata hati mereka yang telah buta oleh kerakusan. Pelayan masyarakat yang hidup dari hak rakyat namun, tidak pernah melayani rakyat. Mereka adalah pendusta sumpah dan pengkhianat bangsa.
Kita pernah merasakan lemparan gas air mata dan dihujani air dari tangki mobil pemadam kebakaran. Namun, peregerakan kita tidak akan pernah musnah dan terhenti. Karena teriakan kita adalah mewakili teriakan rakyat. Kita adalah manusia intelektual yang terlahir dari rakyat dan sedang memperjuangkan hak rakyat.
Ada hal yang perlu diyakini bahwa tindakan kita berdasarkan analisa dan data-data, baik yang terlihat maupun yang tidak terlihat. Kaum revolusioner akan terus berjalan pada jalan kebenaran. Karena kita pernah berjuang untuk merebut kemerdekaan dengan susah payah. Hingga kini nampaknya bangsa ini belum menikmati kemerdekaan yang hakiki.
Kita tidak akan pernah diam melihat penindasan ini. Perjuangan merebut keadilan, kesejahteraan, kemakmuran dan hak asasi manusia akan terus dilanjutkan. Kita bukanlah manusia yang terlahir dengan mata yang buta dan hati yang beku. Kita masih memiliki perjalan panjang. Sedangkan kita sedang berjalan menjemput semua itu.